Industry Compliant Hearing Loop Signage
What is Industry Compliant Signage for Hearing Impaired?
Wherever a hearing augmentation system is installed in a public space, signage must be present that meets legislated requirements.
This also applies to systems that are installed on a temporary basis.
This signage is to allow people with hearing loss to identify spaces where they can access hearing augmentation solutions.
This requirement applies to:
Induction loop systems
FM systems
Infrared systems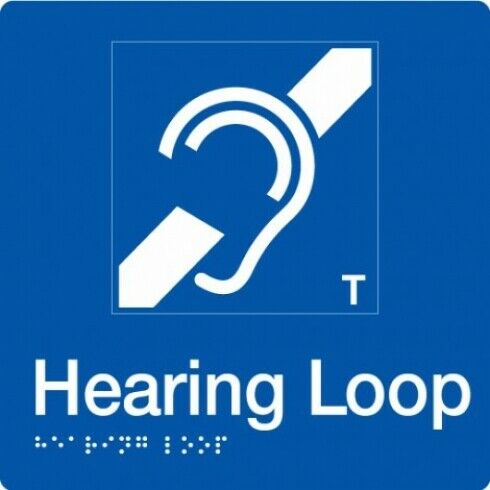 What are the signage requirements for hearing augmentation systems?
The Building Code of Australia and the Australian Standards specify mandatory requirements for signage for hearing augmentation.
The Code and Standards should be reviewed regularly to ensure signage currently installed and any new signage continues to meet the changing requirements.
Currently, these documents specify requirements such as:
Braille and tactile signage at the entrance
The colour and size of the signage including height and relative positioning.
Printed and Braille signage inside the venue or room including the identification of the area or room covered by the hearing augmentation.
What type of system is being used and whether receivers are available and where from.
Signage audit and specification
Satisfy legislative requirements by ensuring your hearing loop signage is compliant.
LoopMe can:
audit your venue to identify hearing augmentation signage requirements;
specify required signage that meets legislative requirements; and
supply and coordinate installation as required.
Contact LoopMe by Better Hearing Australia today to discuss your needs for industry-compliant hearing signage.